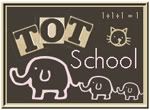 The Bug is 3 years, 4 months old.
We have been doing Tot School with The Bug on the days he is interested. Some days, he tells me that his school will be just doing puzzles or watching Leap Frog. Usually, though, he wants to do school like his siblings.
(This post contains affiliate links.)
One of his favorite games lately is
Camelot Jr.
(He copies the patterns from the book, but he is not yet ready to try to solve the puzzles.)
Another day I got out the
Who Lives Where
game and he played it for a long time.
This week he wanted to do apples so I quickly printed the pack from
2 Teaching Mommies
and he worked on some of the activities including:
patterning with apples. He was confused by the yellow apples (nobody in our house likes them) so we took a trip to the grocery store to look at the many varieties of apples they had.
We did some of the spin and graph, although he only lasted through about ten spins.
Counting the seeds on the apple was a much bigger hit. The Bug is a getting to be a pretty good counter, and Miss M just informed me that he was able to count to ten for hide-and-seek "without missing any numbers" today.
We also used red and yellow bingo chips to count the number of apples in the tree.
He worked on this upper and lowercase letter match. I only printed letters A through L, and it was a struggle for him but his big sister helped him with it. We also worked on some activities besides apples.
I made some homemade pumpkin pie playdough, and he has played with it a few times.
Painting is always a favorite here, as is doing the cutting and gluing Kumon workbooks.
The Bug rarely colors more than a few scribbles. However, he saw Miss M doing this kitten activity from her All About Reading Level 2, and he wanted the cats. (He loves all animals, but especially cats.) So I gave it to him when she was done, and he happily sat and colored all 12 cats.
We did a variety of other activities (most of them involving movement of some kind like charades and musical chairs) but I didn't get pictures of those.
Since October is Fire Safety month, I think we will be working on that next week. Assuming The Bug is interested, of course!