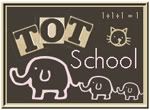 The Bug is 35 months old
We spent the last three weeks going over weather for Tot School. This was perfect as we had 90 degree days, frosty cold days and lots of rain and storms to observe. Warning, there are a lot of pictures in this post!
Like his sister, The Bug is showing an early preference for math-related activities. He enjoyed a number of activities including:
Counting how many raindrops.

Counting and adding the proper number card.

Arranging flowers in size order from smallest to largest.
 
Playing a game. He rolled the dice and counted out how many squares to move.

Matching a picture to the proper shape.

Sorting rainclouds into small, medium and large.

We hosted some friends for a science playdate one day. Along with talking about the weather cycle, we did a few rain-cloud related experiments. This one with the shaving cream and food coloring was a HUGE hit with The Bug. We redid it several times at home over the week.

We also did some hot and cold sorting.
The Bug is just starting to learn his alphabet, so we did several works focused on letters. Dot stampers are a favorite around here, and he uses them whenever he can.
Dotting stamping letter F for flower.
Dot stamping the letter F raindrops only.
Dot stamping the letter R for raincloud.
He played with out alphabet puzzle many times.

Sorting lowercase and capital letter Fs.

Doing prewriting tracing sheets.
More sorting, this time lowercase and capital Rs. He was so proud of himself!
One day we ate a blue jello and whipped cream cloud parfaits for dessert. The recipe came from
here
.
We also did some fun art projects. One day I gave him white, black, silver and yellow paint and he and Miss M painted their own cloud scenes.
Another day, we read the book Little Cloud by Eric Carle and did some shaving cream cloud art. We mixed the shaving cream half and half with glue, and it keeps the shape after it dries. My mom sent me this idea, and the kids LOVED it.
After he sorted the flowers by size, he decided to make his own collage. He asked for paper and glue, and glued them all down. Then he asked for green paint and painted over the top.

Finally, we did some rainbow handprints. (The footprint was made using the side of his fist and was just for fun.)
Printables we used are from:

Those were our few weeks spent learning about clouds and rain!