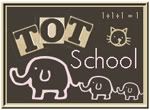 The Bug is 32 months old
We actually did this theme over two weeks, as we had to take a few sick days. Our letter was M for Mouse. Baby B worked on our Handwriting Without Tears wooden letters making a capital M.
Puppets are huge here, so we made an owl paper bag puppet (pattern is from
DLTK Kids
).
Another day we made their
star-shaped fox puppet
.
We had a cute song and
printables
my Mom sent about Five Owls in a Tree. We did this every day, and Miss M collected all of the stuffed animals necessary to act out the song, and even cut blue paper to represent the wind for The Bug.
We also used the owls to count up to 5.
We spent a lot of time reading related books, playing with out Woodland Forest Toob animals and all of our stuffed animals that matched, and doing lots of letter M work. Besides our theme, The Bug spent a lot of time coloring,
and playing with his
Work Bench 'N Box.
He loves to turn the screws and bolts right now, which is good fine motor practice as well as fun!
He also spends a lot of time playing
ThinkFun Rush Hour
. This is actually The Boyscout's game, and The Bug does not play according to the rules, of course, but treats it like a giant puzzle instead.
We did several other activities I did not photograph, but that is a good view of The Bug's Woodland Forest Week.