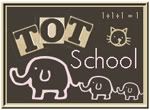 The Bug is 31 months old
I am going to be introducing the letters of the alphabet to The Bug via theme weeks, using the order of introducing the letters that worked with Miss M. First up is the letter C. Since The Bug loves to pretend to be a puppy dog or a kitty cat, doing a pets theme made sense for his first week.
I set everything up on the fireplace. We had two pet themed puzzles; a box full of letter C related puzzles, letter blocks and books; our Handwriting Without Tears Letter C materials; a box full of our stuffed dogs, cats, fish and turtles and our pet costumes; and all of our pet-themed books.
Curious George and the Bunny
turned out to be his favorite book this week. I also put all of our letter C-related magnets on the dishwasher.
We made a letter C cat project. I saw a cat birthday card
here
and knew we could amend it to be a letter C craft. Obviously, I let The Bug put the pieces on as he saw fit.
My mother had made Miss M
The Poky Little Puppy
unit when she was about this age, and I was able to use several of the pieces. Every day we did a matching or memory game using the puppy dog disks she made. The Bug LOVES matching games.
We counted to ten using puppy dog pictures that we laminated. We also discussed the similarities and differences between the dogs, and laid them out in size order.
We used some wooden pieces (kitty cats, puppy dogs and dog houses) to do some simple patterning. (Miss M was doing an online math class at the time, that's her hand on the mouse!)
The Bug made a paper bag puppet of a puppy dog.
(The book I got the pattern from is out-of-print so I didn't link it.)
He also colored some letter C is for Cat worksheets from
Carisa at 1+1+1=1
.
He spent almost an hour one day playing with our homemade Geoboard. (And making a mess from our shelves).
He spent a lot of time working on his
Melissa and Doug Pet's Puzzle
. He would solve the puzzle five or six times in a row each time he took it out. Puzzles are BIG for him right now.
We had a lot of rain this week, but we did spend the one sunny day we had at the park! You can see more pet-related ideas we did not get time to do on my
Pet Board on Pinterest.