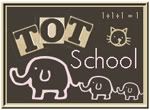 The Bug is 28 months old
We have not been working on a theme the last few weeks. Instead, we have just been working on reviewing our colors and shapes and working on our fine motor skills. The Bug spent some time working with
Cars
stickers.
And a lot of time painting and drawing both on paper and the easel.
He has really been enjoying his Frogs on a Log. We have used these for naming colors, counting to ten, and doing some beginning sorting and patterning.
Miss M showed her brother how to sweep up their cereal mess one morning. I love how she teaches him things that she learned at this age!
One of The Bug's favorite things right now is books. He loves to look through them himself, and of course read alouds.
One thing I didn't photograph is The Bug's speech therapy flashcards. These are his favorite part of school, though, and he often asks to do them several times a day.