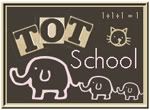 The Bug is 28 months old
Since the weather in this part of the country is still in the 80s and the leaves on the trees have just begun to change colors, it is hard to think in terms of fall. However, that is just what we did this week.
I printed The Bug a few items from the
Fall Tot Pack
from 2 Teaching Mommies to work on. First, he matched different leaves to each other. I line up the first set of the pictures and then hand him the second cards in random order and he finds the match. He loves doing this.
I also gave him some pictures of different-sized pumpkins and had him line them up in order. I modeled it for him first, but was still surprised at how well he did with this.
We also worked on leaf shapes, with the oval and hexagon being new shapes this week for The Bug.
The Bug has a bunch of small blank number books that I made him. Normally we use stickers to fill them in, but this week he stamped the corresponding number of leaves on each page for the numbers 1 through 6.
Also for math he worked with the counting cubes. I was surprised when he actually tried to copy a pattern from the book page!
We did have a few leaves that fell from our trees, so we gathered them up and the kids did leaf rubbings. The Bug really liked doing this craft, although he did need some help rubbing his crayon hard enough.
We recycled a craft The Boyscout did when he was little, and made popcorn shakers. First you decorate a paper lunch sack with markers, stickers or whatever else you want.
Then you put a few Tablespoons of unpopped popcorn into a plastic baggie. (You can tape this shut for safety reasons since popcorn is a choking hazard.)
Put the baggie inside the paper sack, fold down the top and staple or tape it shut. Now shake!
Finally, I had some letter dice out for Miss M to use. The Bug decided they were perfect for stacking towers.
And finally, my favorite picture of the week.
Just because you don't leave the house for school doesn't mean you don't need a backpack!