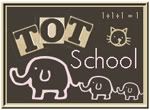 The Bug is 27 months old
This past week our theme was camping. We were still working on the color green, a diamond shape, the letter A and counting 1 to 10. Our Bible concept was God Created All Things.
We read
Owl Babies
by Martin Waddell and then The Bug did a sort for day and night animals. This was his first sort of this kind, and he really enjoyed it! I printed the sorting page from
here
.
We did several items from the
forest tot book
at 2 Teaching Mommies. The Bug colored several forest scenes in specific colors,
did an animal matching game,
matched heads and tails of animals together,
and dot stamped a l
etter T for Tent
. He really likes these, and is very careful to make sure each circle gets colored.
We read
Duck Tents
by Lynne Berry and then we had a pretend campout using his sister's tent and our forest animal puppets. Finally, he used glue and Qtips to make a picture. This doesn't relate at all to camping, but they were supplies his sister had out when he woke up from a nap one day.
I had planned to make smores, but couldn't find any gluten-free ones for The Bug to eat.