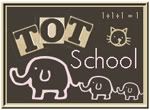 The Bug is 27 months old
We are easing The Bug into a Tot School routine. This week our theme was the beach. Skills we worked on were the color green, a diamond shape, the letter A and counting 1 to 5. Our Bible concept this week was God Created All Things.
For our color, we went on a color hunt, sorted counting bears by color, and then did some drawing using a green marker.
The Bug was very focused on doing puzzles this week!
To go along with our theme, The Bug played in his sand box and played with Island Pineapple playdough. The recipe comes from
here at Hubbard's Cupboard
. Even I thought this smelled like a beach!
We checked out a wonderful story time kit from our library to go along with our theme. We read
What Lives in a Shell?
by Kathleen Weidner Zoehfeld and played with a crab, hermit crab and oyster puppets that came along with them. The Bug LOVED doing this!
We sang some songs including Waves at the Beach (to the tune Wheels on the Bus) and Take Me Out to the Ocean. We also read a number of other books. Our favorites were
All You Need for a Beach
by Alice Schertle and
Sea, Sand and Me
by Patricia Hubbell.
Finally, The Bug helped Daddy make pancakes for some practical life skills!
Next week, we will be doing a camping theme!