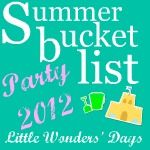 Since there are only four weeks left until the school year ends, and we are already having summer weather, it is time to start thinking about our summer plans. Miss M and J have several local camps they will be attending throughout the summer, but there are also lots of lazy, hot summer days to enjoy. The last few years we have made a summer bucket list and it has led to a lot of fun summertime memories. So, in no particular order, here is this year's list:
Pick berries at a U-Pick Farm
Make freezer jam (Mom)
Make giant bubbles
Create a giant sidewalk chalk mural
Make and fly a kite
Learn how to hand sew (Miss M)
Do a loom weaving project
Finish Chess and Communications merit badges (J)
Hunt for fossils
Make homemade ice cream
Make root beer floats
Have a family Iron Chef night
Go on a photo scavenger hunt
Watch a movie outside
Make homemade popsicles
Have a watermelon seed spitting contest
Go geocaching
Play miniature golf
Watch for shooting stars
Make sun tea
Make homemade lemonade
Ride the train into the city for a special lunch with Daddy
Play flashlight tag
Sign up for the Library Summer Reading Program
Make clothespin fairies (Miss M)
Make a backyard obstacle course
Do a fence weaving project
Make shorts for Little Dresses for Africa (J and Mom)
Go to the Grossology exhibit at the science museum
Do a one-day road trip somewhere we've never been
Have a breakfast picnic at the park
Plant a fairy garden
We may not get to all of these things this summer, but we will be having fun and trying some new things along the way! You can see more summer bucket list ideas
here
.