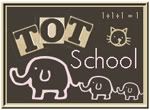 Baby B is 21 months old.
Baby B had a busy week. We had our
Dr. Seuss party
on Friday and he played with his
St. Patrick's Day sensory bin
all week.
When I bought the green eggs for our matching activity on Dr. Seuss day, I had to buy two bags of eggs (75 in all) to get enough green ones. I put them in a bin and let Baby B play with them. At first he just explored them:
eventually, this happened:
and we discovered they are as much fun to run through!
When Miss M works on her handwriting, Baby B likes to draw with a pen as well. We are working on shapes, so he got to practice with star-shaped stickers.
This pinwheel has been a great source of fun this week. He has learned how to blow it and make it spin, and runs around puffing.
I bought new dot markers, and Baby B worked on stamping shapes this week.
He also really enjoyed making shape collages. I cut out circles one day (and squares on another) and let him glue them down any way he wanted.
He has also enjoyed working with unifix cubes. I give him two colors and let him sort them into cups, and then he builds towers with them.
My favorite picture this week was the two boys playing airplanes and building towers together. J is so good with Baby B even though there is more than 10 years age difference between them. J had built a model plane and let Baby B play with it.
Baby B is still not ready for me to put the Montessori trays out for him yet (they would get dumped quickly) but he is showing more interest in doing activities with me, especially when Miss M is also working on school activities.