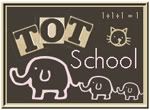 Baby B is 21.5 months old.
I set some Montessori-style practical life trays out for Baby B this week. He would NOT do the spooning pompoms or the pouring pasta. Every time he had these trays he would purposely dump them out and laugh at the mess. Needless to say, they were removed after the first two days. He is just not ready for these types of activities yet.
However, he did enjoy the other trays. This shapes puzzle was a particular favorite of his. I like this puzzle because it works on both colors and shapes, and has a good variety of shapes included.
(I purchased it from a thrift store when Miss M was little, and it doesn't have any manufacturer's name on it, so I can't provide a link.)
This is a simple file folder game to sort red and green clip art images. They are mounted on matching construction paper to reinforce the color. We worked on vocabulary (naming each item) as well as color sorting for this one.
I put out some of his vehicle lacing shapes. He isn't able to do the lacing part, but he did try a few times.
I made him a matching basket using pairs of socks. This was a fun one, as I chose pairs that are very distinctive looking.
Baby B's favorite tray by far was the color bags I made when Miss M was little. He LOVED discovering the little ladybug and bird inside the bags.
That was our week working on colors and shapes. You can see what others did this week over at
1+1+1=1
.