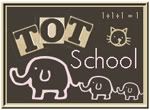 Baby B is 17 months old.
This week I put six trays back out for Baby B for the first time in a while.
(I had taken them away because he was in a destructive phase and they were getting dumped everywhere.)
Our color of the week was blue, so I had a bucket full of blue things for him to explore, as well as a bucket of his wedgits to play with. For fine motor skills I had some pipe cleaners to insert into a spice jar. It quickly became apparent that the holes on the top were too small for him, so I removed it and he just put them into the jar instead.
For our first sort, I wanted something easy to introduce him to the concept so we sorted Little People into people or animals. To make it easier, all the animals were some sort of horse. It took him a few tries to get the hang of putting them together by kind, but by the end of the week he had the general idea.
We also worked on matching animals. I had an education cube I had put animal pictures into, and then the matching animal magnets were in the baking sheet. He would throw the cube and then try to find the matching animal magnet. This was a lot of fun for him!
Baby B also spent quite a lot of time playing with is Leap Frog magnetic farm.
He played with playdough quite a bit this week, and did use his animal cookie cutters in it on occasion.
Playing with trains is his all-time favorite activity and he will spend an hour at a time at the train table every day.
For art we got out the ever-messy but oh-so-fun paint daubers to use.
My favorite picture of the week is this one of Miss M and Baby B just sitting and watching the view from their bench.
That was Baby B's week in Tot School. You can see what others did over at
1+1+1=1
.