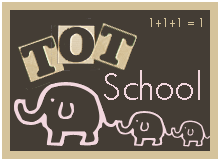 ~16 months old~
It has been a few weeks since we did a Tot School post, but we have been busy working on activities. Baby B has been into the book We're Going On A Bear Hunt, so I did some activities with him related to the book.
We practiced color words using our counting bears:
We collected a variety of bears we had into one bin for him to play with:
I printed pictures from the Bear Hunt printables at
Stay and Play
and put them into Baby B's
Education Cube
. We worked on vocabulary for bear, grass, water, tree, mud and house.
I have continued to change out the six toys on Baby B's school shelves, and this has greatly increased his interest in playing by himself. He loves seeing what new toys there are out each week.
I made felt board pieces to go along with Bear Hunt, and Baby B held them up to me as we told each part of the story.
We have done some painting this week (both finger and using a brush) and spent quite a lot of time outside enjoying the gorgeous weather as well.