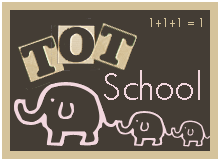 ~15 months old~
This week Baby B's favorite activity was putting straws into a jar. I just punched holes in the plastic lid and he slid them in over and over and over again. He chose this activity every day, all day long. (This idea came from
Carisa
.)
He spent one day this week enamored with our Geoboard. It was actually out for Miss M to use in her math workbox, but he took it and spent the longest time putting the rubberbands on and off. He didn't have tension on the bands, but he knew they had to go around several of the small posts and was very intent on doing it.
We tried finger painting for the first time this week. He was NOT a fan at first, but eventually he got into it.
Baby B continued to work with his stacking blocks this week. Both by themselves,

and with balls added in. He really enjoyed trying to figure out which boxes the ball would fit into, and which it wouldn't.
That was our week in Tot School. For more ideas, check out
1+1+1=1
.