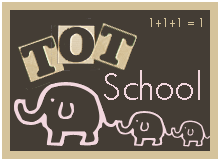 ~14 months old~
It has been a while since we have done a Tot School post for Baby B. He has mainly been working on his gross motor skills, which have finally paid off as he began walking on his own this week. (He has cruised while holding on forever, but is finally taking a series of steps on his own unassisted.)

Baby B is currently obsessed with balls, and one of his favorite games is throwing the balls into a small laundry basket.
He loves to do whatever his siblings are doing. By far his favorite is scribbling. Anytime he sees anyone with a pen, crayons, marker, etc. he insists on having it for himself and scribbling away on paper.
He is also starting to get into playdough. I have to watch him closely so he doesn't eat it, but he is loving playing with his sister whenever she gets the playdough out.

For a sensorial activity, Baby B has been loving exploring our basket of seashells.

He has also been working hard at the shape sorter, and getting better at matching up the proper shapes.


Like all of our kids, Baby B loves playing on the Ipad. Right now his favorite games are Colored Dots and Preschool Adventure.

I have several things I am planning on introducing to Baby B this coming week, including fingerpaints.