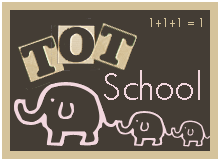 ~14.5 months old~
This week was the first week of school for the other kids, so we had to change our Tot School routine a little bit. We did a little rearranging and put out a shelf for Baby B dedicated to his Tot School trays. We put six items on his shelves - two sensorial, two fine motor and two gross motor - and he played with them on his own all week, and with me or his Daddy one-on-one each day.
Probably the biggest hit were the stacking and nesting blocks. These are old Curious George blocks I bought at a consignment store when Miss M was this age, and while he can't stack them yet, he LOVED to nest them inside each other. We worked a lot on the vocabulary for in and out with this one.
This week Baby B discovered our puppet stash. Thanks to my parents, the kids have quite a few puppets of different animals that they love to play with. Baby B spent several days walking around the house with the chicken puppet and making clucking noises. It was too cute!
For an art project this week, I gave Baby B some colored ice cubes (just food coloring in water) with which to paint. At first he wasn't sure about the cold feel on his hands, but then he got into it and had a paper covered with color when he was done.
My favorite picture of the week was Baby B rolling and throwing the ball with his siblings. They just dote on him and his face just lights up when they are playing with him.