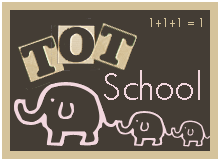 ~14.5 months old~
Baby B had a busy week in Tot School this week. I put three trays with items out for him every day, and either J or I worked with him for about 15 minutes with those items.

He has gotten very good at opening the doors on his
Melissa & Doug Magnetic Hide and Seek Board
and being able to pull the magnetic item behind them out. He loves doing this puzzle over and over again.
This week I had a few of the
Infantino Matching Colors and Textures Puzzles
out for sensory play, and the
Wee Wedgits
as well. Baby B really enjoyed both of these, especially when J built towers for him with the Wedgits.
Baby B and Miss M both LOVE to do play dough,

and J was playing a game where he spun Baby B in the laundry basket, much to both of their delights.

We went to the late night at the art museum on Friday, and the theme was mystery night. While the other kids made disguises, Baby B enjoyed exploring the feathers and other art materials they had out.

Finally, I gave him crayons to draw with for the first time. He couldn't decide which hand he wanted to use, so he used both! I taped the paper to his high chair tray, and this worked well for him. He did end up with quite a few marks on his paper when he was done.

We have also been using our
Education Cubes
to work on vocabulary. I printed photographs of animals (cat, dog, fish, bird, cow, horse) and trimmed them to fit into the block. We roll the block and then I say the animal it lands on. So far he is repeating cat and dog, and we will keep working with these.
Baby B is really starting to use his imagination when he is playing. Miss M loves to pretend she is the puppy dog Lady from the movie
Lady and the Tramp
, and Baby B goes crawling around behind her panting like a puppy, too! He also loves to play with my kitchen utensils, and this day I caught him pretending the tongs were a telephone and saying "Hi" over and over again.
J goes back to school this coming week, so we will be adjusting our Tot School time to coincide with Miss M's kindergarten time.