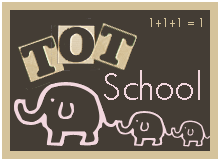 ~11.5 months old~


Baby B is a budding percussionist. Lately he has been turning everything around him into a drum. He discovered this pot at the bottom of my pantry (it's only use is for making playdough) and started banging away on it. He even found the plastic fork to use as a drumstick. It was so cute (and loud)! (He is blowing a kiss in the picture, thus the funny face.)
He also discovered the sand box for the first time this week, and was very big into pouring and scooping. Surprisingly, no sand was eaten!
I bought this
Melissa & Doug Puzzle
at the consignment store figuring he would be able to use it when he was older. He surprised me by being able to open all the little doors and remove the magnetic pieces behind them. This has become one of our favorite toys to play with.
That was our simple week in Teeny Tiny
Tot School
. Baby B turns 1 next week and will officially be a Tot!