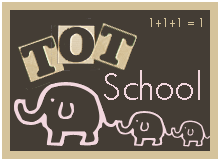 Baby B is 10 months old now, and that means while he is still a baby, he is also old enough to do some very basic Tot School activities.
This week we introduced one of Miss M's favorite Tot School toys - the water table. It was warm enough to do this on two different days, and both times Baby B LOVED splashing and pouring. He managed to drench himself, his sister and me both times.
Baby B continues to love his discovery basket.
One of the things I added was a baby food jar filled with jingle bells. (I hot-glued the lid on so it cannot come open.) It is the perfect size to fit into his hand, and he loves shaking it and watching the bells. He also rolls the jar along the floor and chases it around. Since it is clear he can see the bells as well as hear them, which adds to his fun.
Baby B is loving books. However, after two ripped books that were his sister's favorites, I decided to give him his own book basket. I placed his books into it, and put it on the floor right next to the bookshelf. This has worked well, as he can crawl right to it and pull all of his books out to look at. He has been leaving the other shelves alone now that he has access to his own books.
That was Baby B's first week of Teeny Tint Tot school.