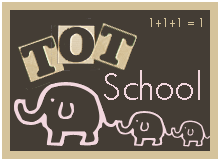 (M is now three years old!)

This week we revisited the princess theme we did in the spring.

Math: I opened several packages of princess fruit snacks, and we used them for math. We sorted by color and then counted how many were in each color. I was pleased to find out that M can recognize groups of 5 or less without needing to count them out. We then lined them up and counted the total number of snacks. This was a hit, and M asked to redo it every day. (She enjoyes any math that can get eaten at the end of it.)

I colored a castle worksheet from
Making Learning Fun
(color coding the shapes) and we counted how many of each shape were in the castle.
M made chocolate brownies from scratch. Daddy showed her and J how to separate the egg whites from the yolks, and then she mixed all the ingredients together and put them into the pan.
Bible Time:
We continued with our
Hubbard's Cupboard
lesson plan for Bible time. We finished up our creation book this week (day 7 didn't get photographed).
We also did their animals that fly and swim sort. M loved sorting the animals and was able to do this independently after the first time.
Art:
M colored a princess picture from
Making Learning Fun
. She focused on either tracing the lines of the shapes in the crown or trying to color within the lines. (The pink shapes were colored in for her.)
She also painted a paper bag dress to go along with our
stART project
.
Fun: M played with her Melissa & Doug magnetic princess doll. The doll tried on every outfit and gave quite the fashion show.

We had a fancy tea party this week, including special cupcakes. M wore her fancy new feather hat and made a very good hostess.
We also played our princess bingo game, worked with our princess number puzzle, and read MANY princess books. We worked a lot on phonics for our letters C, M, A and T as well.