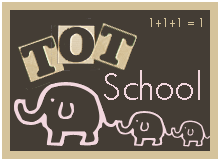 (M is now three years old!)


This was our first week of a new Tot School year. We are slowly easing back into a routine this month, finding a new way to school with a baby at home, and adding in some new elements as M is now three.
We are starting each morning with circle time. For us, this means doing our calendar, reading our weekly theme-related read alouds, and doing our Bible Time. I plan to add some math elements and sign-language practice during this time, adding a new element each week.
M uses one of our pointers (a butterfly-shaped fly swatter) to point out the current day of the week. We are also doing an AB pattern with red and green apples on our calendar days.
After circle time, we move downstairs for our planned activities. This week that included patterning with our counting bears,
working on the first four days of our Creation book (
from Hubbard's Cupboard
),
tracing on our pre-writing cards from
Confessions of Homeschooler
(these are F for fish)
having a tea taste test for science (we graphed the results)
and having a tea party. M got this tea party set for her birthday, and we have actually had a tea party every day since. She uses apple juice for tea, and has everyone who is home join in.
For math we did a number shake game. I labeled each well in an egg carton with the numbers 1-12 (you can use any numbers or letters you are working on). Then I added in a button. M would shake the carton, open it, and then tell me what number the button was in. She played this several times this week, as we are working on cementing our numeral recogition.
We also played a bean-bag number toss game. J drew circles on the driveway using chalk, and numbered them 1-9. M would toss the bean bag into the number I called out. This was our only outside activity this week, since we were well over 100degrees every day.
We also practiced cutting this week. M still turns her hand upside down to cut, so we are working on positioning of the scissors as well as cutting straight lines.
Now that M is three, we are focusing more on Montessori activities. We reworked our family room to give her a space with her table and shelves so she can have access to these activities whenever she wants. Those activities will be posted about tomorrow, in a separate post.