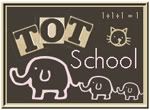 (M is 33 months old)
As I mentioned before, I am on bedrest until our son is born, so I really haven't been able to prepare any items for M for school. On top of that, my laptop recently died, and we won't be replacing it for a while (I am using my husband's work computer to post). Luckily, my mother stepped in and has made some fantastic theme weeks with activities that M and I can do while I lie down. I didn't get pictures of everything, but here are the ones that I did get from our Grandma-designed bird week.
Math:
M created a bird using her puzzle pattern pieces and we did some 1:1 correspondence and counting using Robin's Egg candies left over from Easter. She also did some sequencing of paper birds by size.
Art/Crafts: She painted a bird and we added tissue paper wings. It flies over her little table right now.
We talked about what birds build their nests out of, and then using a flour and water paste and a coffee filter to help hold the shape, M made her own bird's nest. We used twigs, moss, grass, yarn and feathers just like birds do.
Letters:
We filled in the missing alphabet letters using stickers and then M colored-by-letter on a bird shape. I had her use twistable colored pencils to work on her grasp, which she really enjoyed.
M also played with some new bird magnets and learned about different types of birds. The flamingo was her favorite, because it was pink, of course. She did some shape matching and worked on finding which object did not belong in a series from some worksheets Grandma made up for her.
She did lots of pretend play - making birds nests out of playdough and pretending to be a bird flying around the house. She also spent quite a lot of time outside with her brother observing birds, feeding ducks at our pond, and searching for birds' nests.
This coming week we will be working with dogs and activities related to the book The Pokey Little Puppy, which is a current favorite in our house. To see what others did in Tot School this week, check out the McLinky at
Carisa's blog 1+1+1=1
.