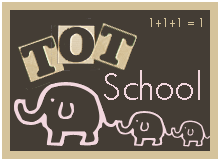 I hope everyone has a blessed and happy Easter. I am posting this a day early, since I don't plan to be on the computer tomorrow. We had a very fun but eclectic week in Tot School, with no real theme to our activities.
We did work on our
alphabet/phonic eggs
every day. M is getting very good at doing the sounds of the letters, and loves to work with the eggs.
She also did some practical life work, using a deviled egg tray and some colored pompoms and Easter erasers. She had to use her tongs to transfer the items into the ovals in the egg tray. At first, I let her put them in any order she wished. Then, after she had done this a few times, I extended it and had her put the items in ABAB pattern order. M loves these types of activities.
We also worked on our scissor skills, using several pages from our Kumon cutting book. M's grasp is getting much better and she loved cutting these so much. I have to remember to make copies of the next pages before I give them to her, so she can do them over again.
For free art time M wanted to paint, so I gave her some red and yellow paint and showed her how to mix them to make orange. She loved the mixing part probably more than the painting itself.
She worked some more on her magnetic pattern blocks this week, as well as her bear family puzzle.
We enjoyed our gorgeous weather by playing at the park every day, where sliding is by far the favorite activity.
Daddy reads to M and J every night, and one night I snapped a picture of them enjoying a book together.
That was our week in Tot School. To see what others have done, check out Carisa's blog at
1+1+1=1
.