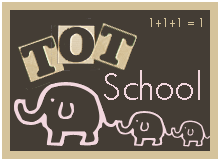 This week we didn't do a lot for Tot School. J was home for Spring Break, we were all was sick with colds, and everyone wanted to play outside when they could.
After 70 degree weather all week, the first day of Spring brought us....SNOW!
Earlier in the week we did do St. Patrick's activities, which I blogged about
here
.
M also spent some time working with her Handwriting Without Tears Roll-A-Dough letters. She really likes working with these tools, and often requests to do them.
M has taken swimming lessons since she was 6 months old. She is quite a little fish, and loves to go every week. This week, J was along and acted as photographer.
We also bought a bunch of new games for M to play at a super clearance sale. This week's favorite was what we call bunny blocks (they are
Giant Rabbit Blocks
). M loves to do blocks and legos of any kind, but these are a favorite because they are larger sized. We have had lots of airplanes, cars and horses made and ridden around this week.
That was our eclectic week in Tot School. We will be spending the next two weeks working on Easter and Lent activities. To see what others have done in Tot School, see Carisa's blog at
1+1+1=1
.