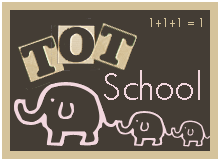 This week in Tot School we focused on Valentine's Day and hearts.
Math
We started the week doing candy math. We used foam heart numbers and sweet hearts candies to count and sort. You can read the post
here
for all the details on what we did. M enjoyed this so much we did candy math every day.
We did the Roll A Valentine activity from
Confessions of a Homeschooler
. This is the first dice-type game we have done, and M loved it! She had no problem counting the number of dots on the dice and figuring out which number it was on the sheet.
Letters
I drew hearts on a piece of paper and labeled them with capital letters. Then I found small red heart stickers and wrote the lower case letters on them. I gave M the stickers in random order and she had to name the letter, the sound the letter makes, and match it to the upper case letter. She loved doing this (that's her excited face in the picture) and completed all the hearts.
Crafts
M made a heart wreath using foam stickers from a kit Grandma sent her. She had a great time gluing the hearts all on.
She also made a tissue paper collage heart.
We also made some homemade pink playdough and played with our heart cookie cutters.
This week we had some unexpected snow (10 inches total - a record for us) and M and J played outside a LOT for the two days it remained.
We also celebrated Daddy's 38th birthday on Saturday. M helped him blow out his candles and enjoyed the chocolate frosting on his cake.
That was our week in Tot School. You can check out what other's have done in Tot School at
Carisa's
blog. I hope you all have a great Valentine's Day with your little ones.