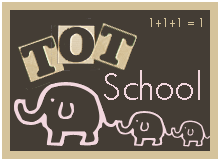 I am behind getting this posted, as we had a busy weekend. M and I spent the last two weeks in Tot School working with fish. Usually we only spend one week on a theme, but she was having so much fun I extended it.
Alphabet/Pre-Reading
Confessions of a Homeschooler
has wonderful downloadables she has designed herself for her letter of the week themes. We used several of her F is for Fish items this week, and loved them. Here, M is matching letters for "Fish". We matched upper and lowercase to each other and worked on the sounds each letter makes. This was pretty easy for her, but she had fun and wanted to do it several times.
We also played alphabet bingo. I bought this at the Dollar Store a while back, and finally got it out to play. We'd call out the letter, and M had to find it on her card and cover it with a marker and also tell us what sound each letter makes (we are only doing the short vowel sounds for now).
Math
M enjoyed doing her tangrams last week, so this time I printed out some pattern blocks from the
Pre-Kinders
site. I cute the shapes out of foam so they'd hold up. She loved doing this, and I was amazed she had the patience to get all 23 shapes on in one sitting.
Art
We made lots of art projects these last two weeks. You'll notice I usually let M do art first thing in the morning while she's still in her pajamas. That way if she gets too messy I can just put her in the bath before dressing her.
M made a paper plate and tissue paper collage fish. She loved painting the glue onto the plate.
Next she used her dot markers to make scales on a fish cut-out.
This is partly an art project, but is also great for those fine motor skills we are working on for writing. I gave M a piece of construction paper and some fish stickers. She spent all week going back and adding a few stickers each time until she had the paper covered with a full ocean scene. Since there are very small bubble and star stickers on the sheets, she had to use her pincher grasps to get them onto the paper.
M made a fishbowl using construction paper and some puffy goldfish stickers her Grandma got her for Christmas.
For a
stART project
we made a Corduroy bear.
With all these planned art projects, we always make time for free-art. M's favorite remains painting of any kind.
Dramatic Play
M was very into her dress-up clothes this week. She loves pretending to be a princess, and she has several dresses to choose from. She loves it so much, I think we'll spend some time this next week doing some princess projects.
That was our last two weeks in Tot School. Be sure to visit Carisa's blog at
1+1+1=1
to see what everyone else did this week.