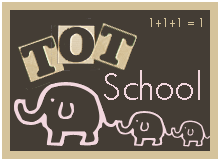 This week's Tot School focused on arctic animals; particularly penguins and polar bears. M loves penguins, they are her favorite animal every time we go to the zoo, so this was a fun unit for her.
M did a color-by-number penguin I found at
Making Learning Fun
. She refused to fully color the penguin, but colored each number instead.
We also did a polar bear math worksheet and a penguin one, where M used a bingo marker to dab the circles as I called out the number. (She insisted I color the penguin for her.)
We also did a tangram polar bear. We don't own actual tangrams, so I cut them out of colored paper (foam would have held up better). She loved these, so we'll do more tangrams in the future.
Since M loves her bingo markers so much, we also did a bingo marker letter P and penguin. She was so very careful to make sure the marker went into the circles exactly.
For art we made two different penguins. Both are cut from construction paper and glued together. Of course, we had to have googly eyes. M loves to do her handprints, so we made handprint wings (idea from
Just For Fun
) on one of them.
For gross motor activities this week we waddled like penguins and lumbered about on all fours like polar bears.
I made M a sensory bin using her water table and ice cubes. She spent over three hours (as long as it took the ice to melt) playing with these. She had plastic animals, scoops and spoons to play with. J played with her and they had so much fun pretending their animals were in the arctic. I did give her gloves, but she preferred to play barehanded most of the time.
The Shafer Family did a great
mini unit on penguins
several weeks ago, and they have many fun ideas we didn't get time to do! Be sure to check it out if you are looking for penguin ideas.
That was our arctic animal week in Tot School. Visit Carisa's blog at
1+1+1=1
to see what others did this week. Next week we are focusing on fish.