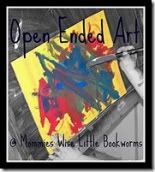 We are back into our routine this week, and that includes participating in the weekly
Open Ended Art
meme over at
Mommies Wise Little Bookworms
. This week's theme was feathers.
Since M is so into dress-up lately, I thought it would be fun to make feathered masks. I cut the base out of foam, and gave M the glue and feathers and a few sequins.
After putting a few feathers on, she asked me for buttons. And of course, since the button box has googly eyes in it, she had to use those as well.
It didn't have as many feathers as I had envisioned, but she was very proud of the finished product.